---
About Floyd's

Floyd's Meat and Seafood got its start on Marshall Rd. in Jacksonville, in 1978. Floyd Johnson was a butcher's son, and moonlighted as a butcher while serving in the US Air Force. After he retired from the USAF in 1977, he got bored painting the house, puttering in the garden, and goofing off, and bought a small grocery store that was on Marshall Rd. He got the whole family in the act, including his late wife, Rhonda, and their children, Lorie, Lisa, and Thad.

Today, that site is now a "Chilis", and the business moved briefly to Crestview Plaza in Jacksonville, then to its current location on Kiehl Ave. in Sherwood. Lisa Marshall bought the business from Floyd, who still helps out -when he's not playing with his airplane. Thirty years is a long time to own a business, but Lisa and Floyd are still at it. They specialize in 'old-fashioned' service, with a Cajun twist. Rhonda Johnson came from Louisiana, and brought her recipes for gumbo, etouffee, and jambalaya with her. The store has become the local "Homesick Cajun Headquarters", and during crawfish season (February-June), Lisa sells them by the bagful. (She sold 34 tons of live crawfish in 2008!) They also carry a great selection of seafood, and wonderful Cajun holiday goodies like TurDucHens and wonderful hams. They do custom orders, too.
"Was that for today?"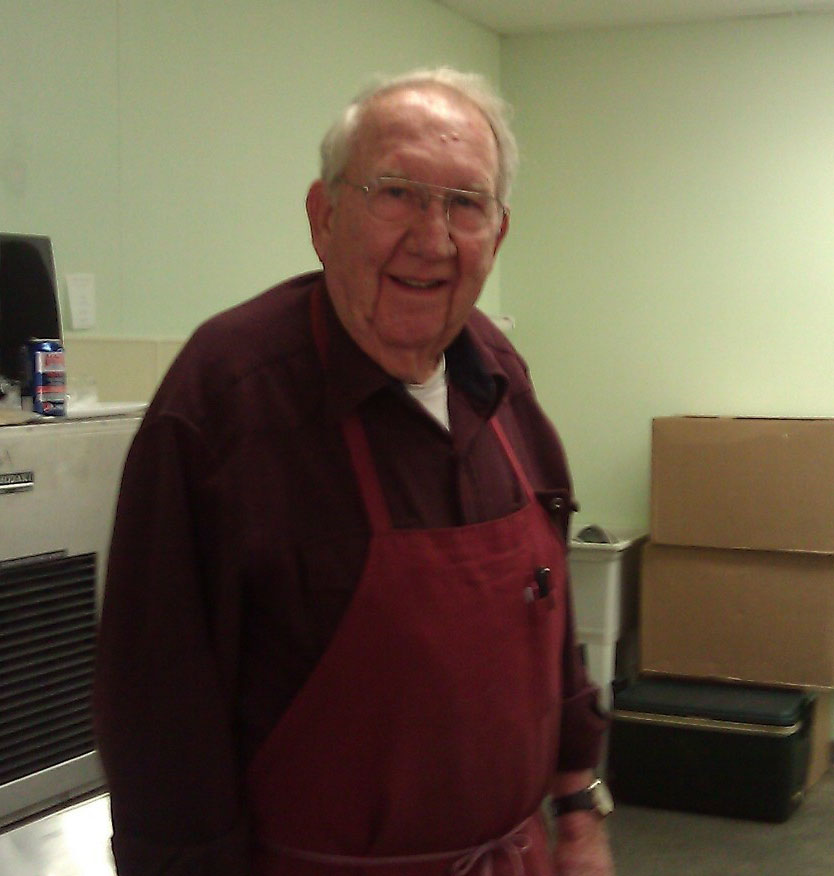 Floyd "The World-Famous Butcher" Johnson
1932-2013
---
Directions to Floyd's Meat & Seafood
Plug this address into your GPS:
4067 E. Kiehl Ave
Sherwood, AR 72120
And if you don't have a GPS:
We are located in Sherwood Plaza, on E. Kiehl Ave, right next door to Casa Mexicana.
From 67/167 Southbound:
Take the Kiehl Ave exit

, bear right after U-Haul store.

Go straight at the light.

Floyd's Meat & Seafood is about two blocks down on the right, just past Harvest Foods
If you google 4067 E. Kiehl ave, you'll see our store- sort of. For those of you who are GPS deficient- just call us- we'll guide you in...
(yeah, some folks seem to think we're in Florida...)
---
Floyd's Meat & Seafood 39 years and counting!
Thank you for your business over the years between our former locations in Jacksonville (Main Street and Marshall Road, 22 years in that location, now Chili's, the Bank and Sonic)
Main Street in Jacksonville at Crestview Plaza, 3.5 years (next to the Revenue Office) and our current and only location on Kiehl Avenue in Sherwood since March of 2004 to present.
We aren't in Jacksonville, AR anymore, so don't go looking for us there!